i have a desire to blog again. and blogger will always PWN livejournal. sorry sabrina.
i'm excited.
while, at the same time, a little scared. my parents are out of town. while the house is more quiet, i find myself lonely and with nothing to occupy my time. it's a weird feeling. i know that if people were home i would do the same things (watch tv, go on the computer, eat, breath) but i don't feel as comfortable doing them...
but with the parents gone, i get use of both cars. it might mean a little more time to sleep and prepare myself for school during the week, and on the weekend, a party. because how can i be home alone when it's nearly independence day. apparently fireworks aren't allowed on the 3rd, the scheduled day of my small gathering, so i suppose i'll have to see people on the 4th as well. the only day that fireworks are permitted??? not really sure that's true. but i won't want to be lonely on saturday either.
i've been finding myself a bit more outward and friendly in the recent past. very recent past. like today. or maybe it was yesterday. anyway i feel like i care a little less about what people think about me. i try to not let myself dwell on it too much. that's bad, forget i said that. i don't care about what people think about me................... I DON'T!!!

ok, deep breaths. they heard it. it's over. don't let it bring you down too much.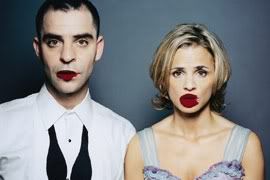 i've been reading a book by david sedaris and i find myself looking for parts where he mentions his sister amy. she fascinates me. she starred on the comedy central show strangers with candy aside stephen colbert and paul dinello. i'd say an interesting person as she's said she likes playing ugly people far more than attractive people. her brothers book is funny tho. i was in the habit of reading it a lot but then the weekend came. and my desire to read was lost. we'll see what happens when i'm back at school on monday...
speaking of school, i have research to do, and an outline to construct. but i have a car. and tomorrow is sunday. and if i hang out with alana i can get my flip back. :P
so today was long. or yesterday depending on how you look at it. started out very strange. i woke up home-alone and didn't know what to do with myself. walked around the house very confused and figured someone was home. i guess if you count the dog then there was someONE. i guess i was looking for people, so the dog doesn't count. anyway, i really did nothing. took me forever to take a shower and get dressed and even talk to people. then i told my bff alana i was bored and we scheduled a time to hang. kimberly just happened to be with her and shortly after hector joined us. we talked alot of the famous youtubers we had just encountered on the previous day (moi and alana that is) and hector and alana played some guitar hero on my couch. then went to a laaaame bon-fire with jenny and alana and alana and alana, then left and picked up hector again and i don't think this is making sense. i might be leaving out details. jack in the box was had and jokes were made and michael jackson has been stalking me all weekend. he seems to be lingering around every corner and just waiting for the perfect moment for a surprise attack on my sanity. blah, i need to pee. and empty my brain of all this static...